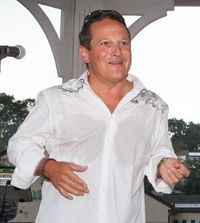 Steve Anthony Loporchio

Steve's entertainment career dates back to his high school days where he was a member of the nationally known Cranston High School East a Capella Choir as a soloist touring the New England states, 10 European countries as well as the Soviet Union.

Steve also has a theatrical background performing in several musicals such as Jesus Christ Superstar, Gospel, Man of La Mancha and Hello Dolly.

His first lead singing role was as a vocalist with the 18-piece "Big Band" sounds of the Young Rhode Islanders. Where he had performed for thousands at Dinner Dances, Corporate Parties, Political Balls and many Black Tie Events throughout New England.

Taking a break from live entertainment Steve lived in Manhattan and Los Angeles where he acted and sang in 8 national television commercials for Trident Sugarless Mints, TWA, The American Dairy Association, Chevrolet and Ragu Spaghetti Sauce to name a few.

Steve also shared the stage with Michael J. Fox, Tony Orlando, Dick van Patten and Neil Sedaka. Other musical accomplishments include singing at the National Finals for Talent America in New York City as a guest performer. Steve toured with the 9 piece powerhouse band "Night flight" along side of 70's acts such as the Tramps, Andea True, Tavares and LTD featuring Jeffrey Osborne.

Since 1992 Steve has fronted the explosive "Persuasion" band where he shares the stage with 6 of the areas best musicians performing at various establishments from the Newport mansions to Foxwood's Fox Theater.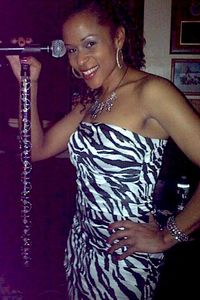 Gabrielle (Washington) Silva
Rhode Island born, vocalist, Gabrielle (Washington) Silva, began singing at the tender age of two. She began her vocal training as a member of the Olney Street Baptist Church Children's Choir.
Through the years Gabrielle's talent has been showcased in various talent shows and competitions, including, The Miss Hemisphere Pageant, where she was first runner up and twice in The Miss Rhode Island Pageant, where she placed in the top ten and received awards for style and poise.
In 2003, Gabrielle received a Bachelor of Arts in Music degree from Rhode Island College. She studied classical music and majored in voice. 
In 2008, Gabrielle began singing with Front and Center, a Rhode Island based R&B show band. She was their lead female vocalist for 3 years.
In 2009, Gabrielle began frequently sitting in with Rhode Island's favorite track band, Brother to Brother and has also sat in with various bands throughout Rhode Island and Mass.
In 2011 Gabrielle joined Steve Anthony and Persuasion where she continues to delight audiences with her soulful vocals, style and grace, as well as her energetic stage presence. She has made a fine addition to Steve Anthony and Persuasion as their featured female vocalist.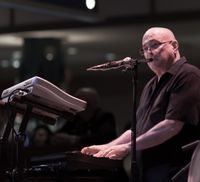 Frank Wood

A life-long resident of Rhode Island, Frank Wood has always been involved in all aspects of music: buying, selling, repairing and teaching musical instruments and best of all, performing on them.  He attended URI and RIC and was awarded degrees in Music Education and Clarinet.  His first love, however had always been percussion, so it was natural for him to be the drummer in the first two bands he co-founded, "West Passage" and "Night Flight", where he first met Steve. 

The band "Night Flight" travelled extensively from Canada to Florida performing high-energy R&B dance music and floor shows.  After "Night Flight", he joined the Rhode Island-based show band "Fancy Colours" where his travels were expanded to include England, Sweden, Finland and Norway.  Performing shows such as "Cabaret", "American Bandstand" and "The Blues Brothers" provided the opportunity to change instruments between Clarinet, Saxophone and keyboards as well as Drums.

Since 1981, there was a ten-year stint as keyboardist in a duo called "Gemini", and from 1992 to the present, he has once again found a home with "Steve Anthony and Persuasion".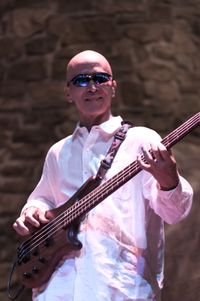 Ed Mace
Ed, a primarily self taught electric bassist of many years, studied briefly with RI legend Bob Peterutti and cites him as a major influence in refining his self driven approach.
During the disco years Ed toured the USA, Canada and Virgin Islands with a very popular NYC based show band.  He has shared the stage with local bands such as Rizz, GQ, Brass Attack, Jim Hitte, Bob Mainelli and was the last bass player to perform with the highly popular Match for two and a half years.  Ed has been a consistent musically driving force behind Steve Anthony and Persuasion since 1997.
When he is not playing music, Ed fervently pursues his ever growing voice over career.  Besides voicing hundreds of video games worldwide, his voice can be heard in countless animations, narrations and teaser/trailers.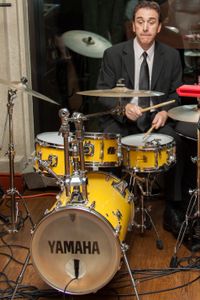 Paul Ionata

Paul has always been a natural at playing the drums.  He wanted to become a drummer at the age of ten so his parents bought him his first "champagne sparkled" Ludwig drum set!   At the age of fourteen Paul began drum lessons with a great teacher and performer Mr. Artie Cabral and started jamming with friends and schoolmates.

After High school Paul attended Rhode Island College for music and studied with instructor Mr. Gary Chaffee while attending numerous professional drumming clinics.  During the 1980's Paul began playing professionally at private functions and local club venues where he had the chance to share the stage with the legendary entertainer "Tiny Tim"!

For the past twenty five years Paul has been teaching private lessons and continues instructing in RI.  In 1996 Paul joined up with Steve Anthony and Persuasion and has been the drummer ever since driving the "Persuasion" rhythm section with his solid and syncopated rhythms that will make you want to dance!